What do you need from the Aida Collection?
Bedroom Set
Dining Set
Living Room Set
Italian furniture is the highest quality, luxury furniture sets you can find. In terms of an Italian furniture dealer in the Philippines, the best one you can approach with full confidence is Muebles Italiano. This established brand offers the Aida Collection.
The Aida Collection is filled with opulent gold and lacquered to perfection furniture that will surely wow your family and your guests. These designs are best paired with traditional-style homes. The level of opulence you want can be achieved with this gilded set. Let's explore the different sets you can incorporate for your interior design.
Bedroom Set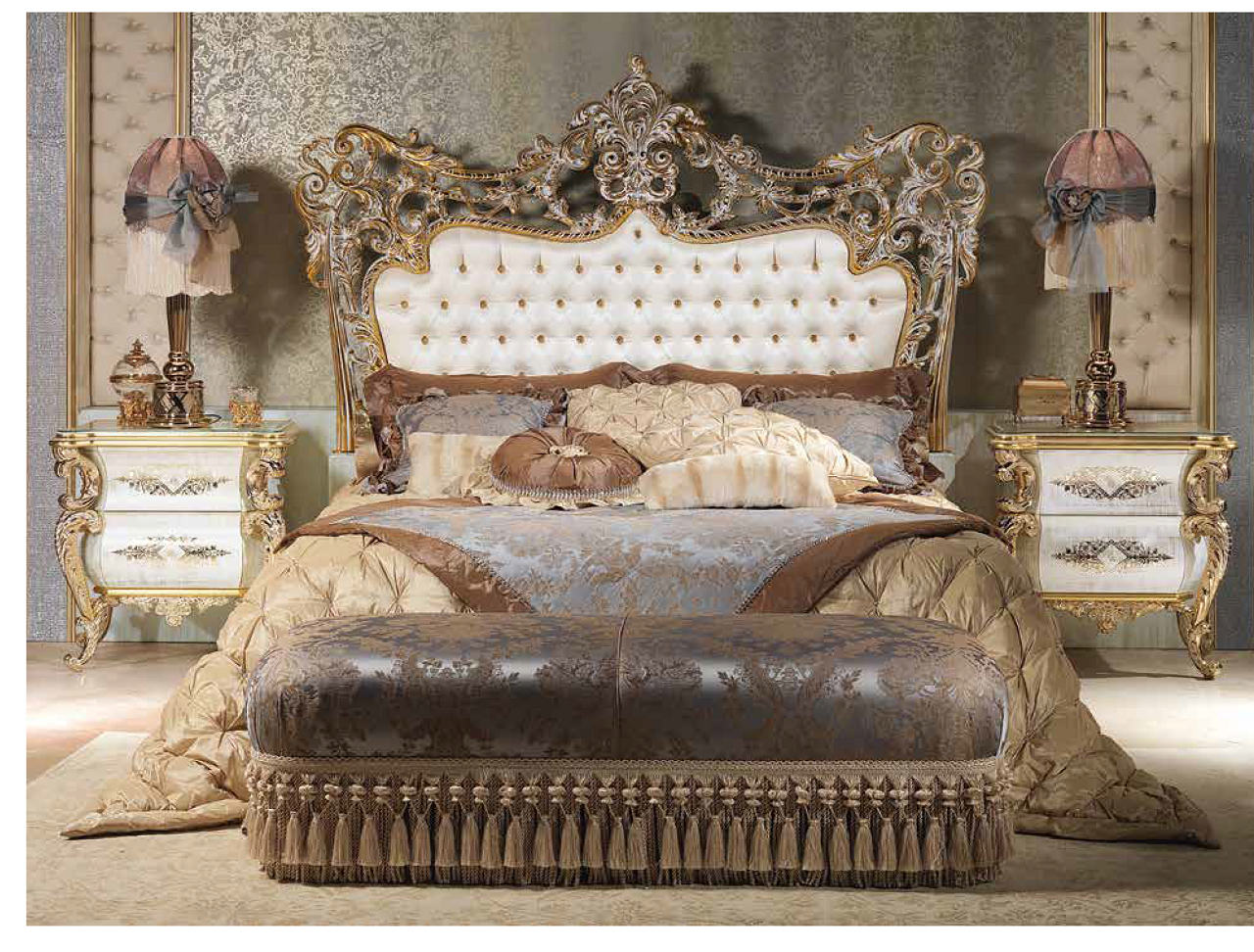 The bedroom is your place for relaxation and rejuvenation. All parts of the bedroom should exude comfort and warmth. Designs that are too busy sadly don't fit the bill as it does not promote sleep. However, the Aida bedroom set will surely satisfy and promote good rest.
Each piece of the bedroom set is upholstered to perfection with the use of premier Italian furniture techniques and design principles. Each gold-encrusted piece creates an elegant and sophisticated luxe design that softly reflects light. The hand-painted furniture pieces are made with passion by Italian artisans. These designs will surely last you a lifetime.
The look you'll get from Aida's set is straight out of the Italian renaissance. Nobles from that era will appreciate the carefully crafted pieces in this collection. Combine the wardrobe, vanity set, and bed set to transform your bedroom into the most relaxing, luxurious room in your home.
Dining Set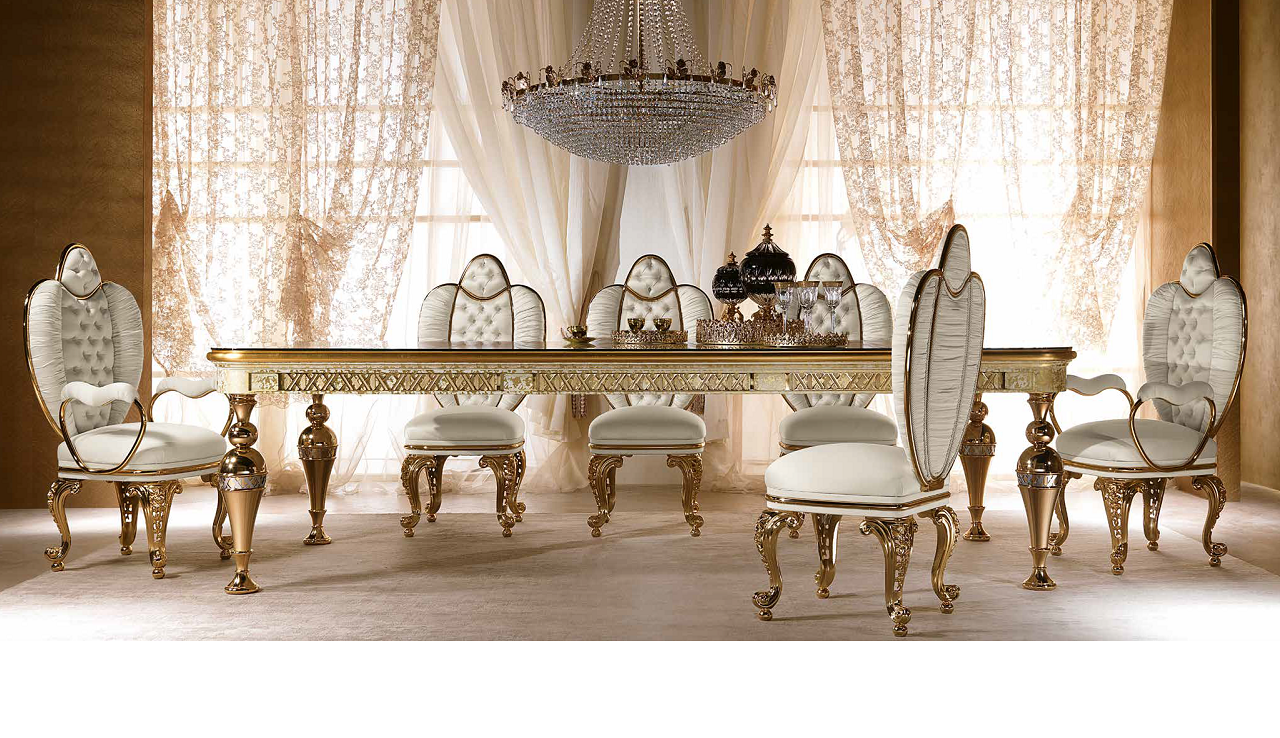 Dining is a very important activity for a lot of cultures. Eating has a way of bringing people closer together. Each meal and drink shared has the ability to unite the hearts of the people. It's important to honor this aspect of dining by choosing the best furniture and designs for your dining room. Thankfully, Aida from Muebles Italiano is available for you.
Aida continues the gilded designs with their dining room sideboard. This sideboard is a convenient area to keep your precious china and silver on. It houses your cutlery and plates elegantly with the promise of Italian durability. Italian furniture lasts and lasts for years, especially when properly maintained. Creamy white stands out from the gold by creating a soft, elegant look for your dining room.
Choose from one to four door showcases for your china collection. It can definitely push the limits of the overall interior design of your dining room. Like all Italian furniture, expect a solid build and an elegant design combined into one convenient furniture piece.
The dining set doesn't stop there. You can choose from two designs from Aida to upgrade your dining room from drab to fab. The dining set from Aida features rounder, simpler shapes. These are perfect for the laidback individual who doesn't mind getting the best thing in life.
The next dining set has a much more elegant, intricate design. Each metallic and wood finish is hand-crafted and painted using only the best Italian lacquers, wood, and finishes. In the midst of the golds, there's a hint of glimmer using silver-plated fixtures.
Living Room Set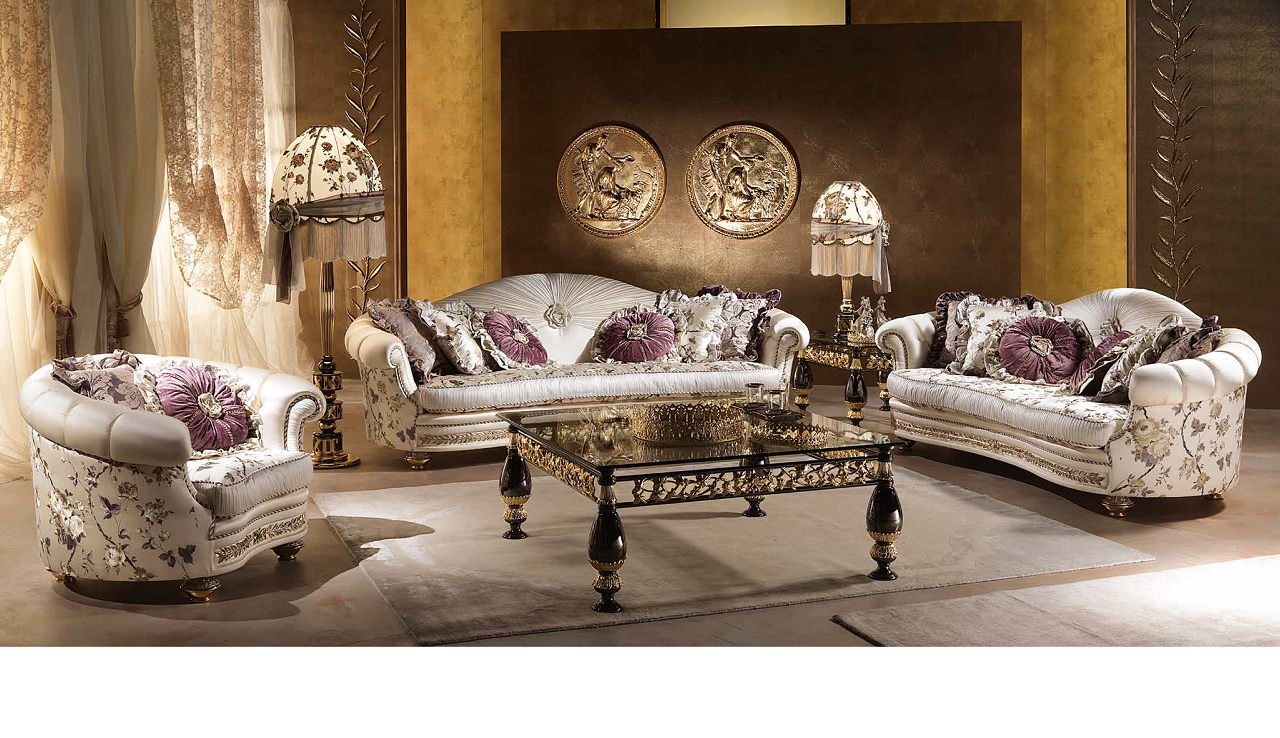 Living rooms have different purposes. Sometimes it could be a room just for display. It could go back to its roots as a place for conversations. It could be your place for entertainment. No matter what purpose you have, Aida from Muebles Italiano can elevate your living room design.
Upholstery in the Aida collection is carefully embroidered by expert artisans to create the bespoke look of Aida. Each cushion is sewn carefully to create durable lines that not only serve a functional purpose but a design purpose as well. You can expect maximum comfort without sacrificing the elegance of Italian design with Aida.
The coffee table creates an illusion of space by using glass and metal. It's a mix of art nouveau and art deco. Your coffee table can be used for multiple purposes. From elegant designs to a functional purpose for your coffee table, you can't go wrong with this collection.
Lighting is also important. It completes the look of the room. The wrong lighting can make the living room look lifeless but with Aida from Muebles, your living room can feel flowy and alive. The various lamps from Aida use a durable metal base with an embroidered shade to deliver the right amount of lighting. Each opulent piece of these lamps ground the room by providing a soft light that illuminates the other furniture pieces from the collection. Aida is the perfect combination of metal, wood, and textile that creates an unprecedented upgrade to your home's interior design.
Key Takeaway
Upgrade your home's interior design by visiting the best Italian furniture dealer in the Philippines. Each design from Muebles Italiano is sure to satisfy your inner artist. If you want to create a unique design story, look no further than Aida and Muebles Italiano.
Interested? Click here to inquire about The Aida Collection!