For the end of the decade, change up your bedroom styles. There are tons of new trends you can use to bring out your personal style for the new year. If you simply need a brand new perspective, a fresh bedroom interior design can do that for you. Get inspired by checking out these lavish styles for your bedroom.

Au Naturale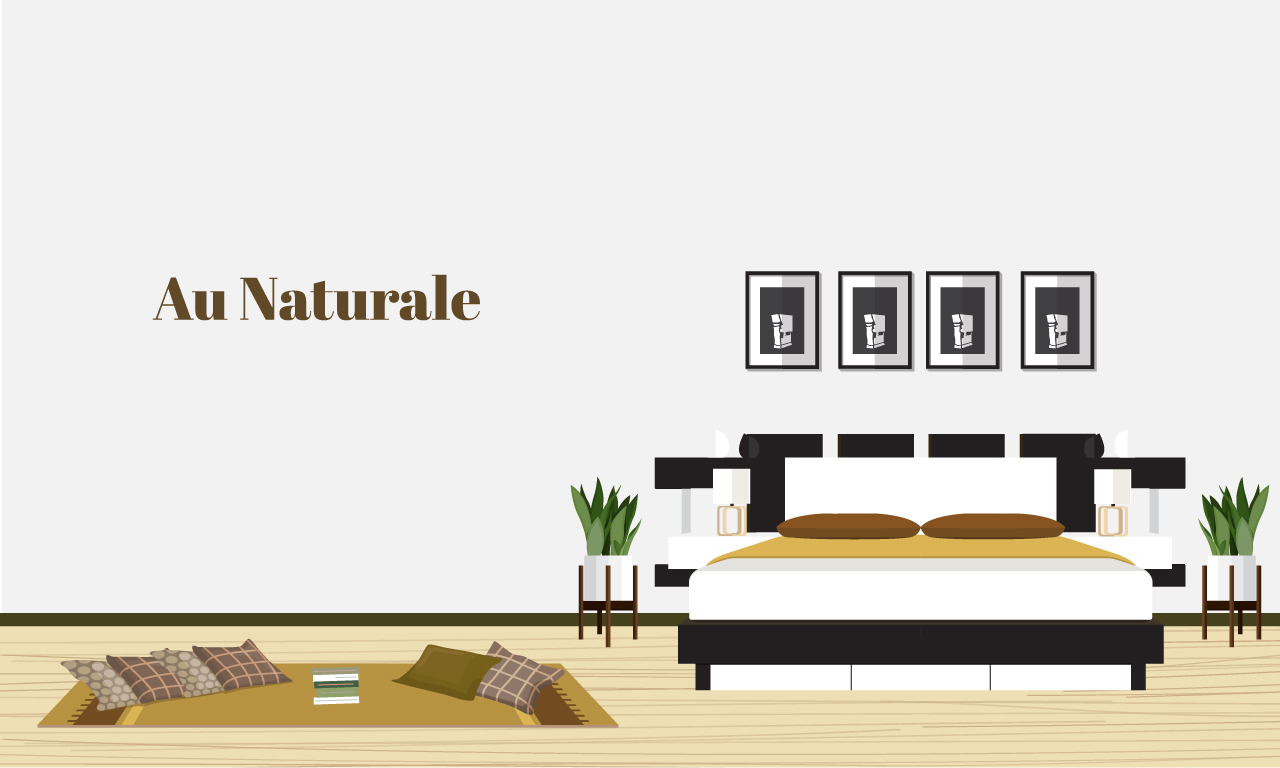 Natural will never go out of style. For any interior design, adding a touch of natural textures and colors grounds the room. You can create a unique interior story using luxurious furniture pieces and nature-inspired ornaments. Organic elements can go a long way. It's simple to add warmth with organic textures. Combined with different furniture designs, you can create different combinations and looks for the year 2020.
With the natural look, you can also explore luxurious materials such as copper, marble, granite, leather, and stone. Choose one material to highlight when redecorating and restyling your bedroom. Too many materials can move away from the essence of the natural look. It'll look too busy and manufactured. Instead, incorporate key pieces through the principles of interior design for a unified look.
When using different materials for the natural look, be conscious of your choices. Not only are you helping yourself out but also the environment. These bespoke ornaments and furniture also have better quality compared to your factory manufactured furniture. Each piece you buy is a piece of art ready to complete the natural look for your bedroom.
Cozy Farmhouse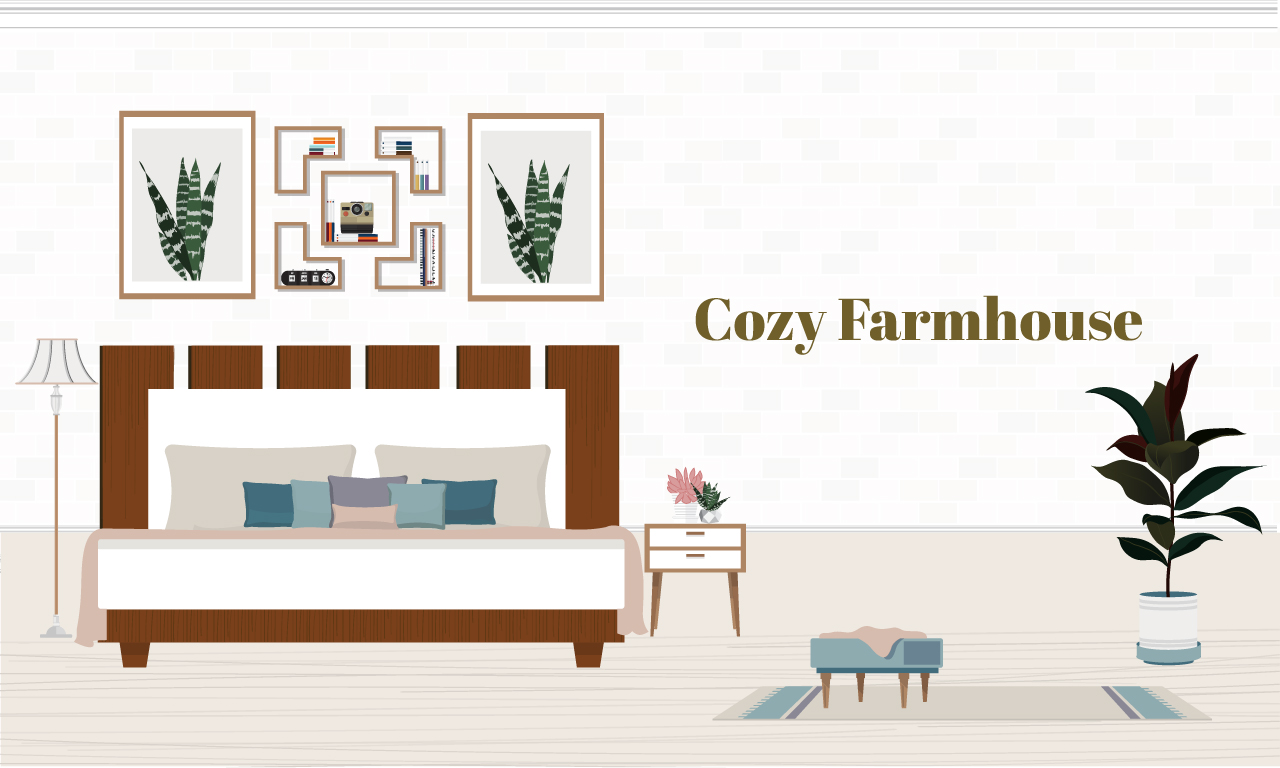 Get a cozy and warm feeling with a farmhouse style bedroom. This aesthetic promises a clean and refined look while being relatively simple to style. Light and airy colors are the stars of this style. Pick pastels or neutrals for your bedding and keep the walls and floors relatively light. Bits of metal textures such as brass and copper in your bedroom can go a long way. This can be used for your side tables and your bedroom frame. Alternatively, you can invest in staple wood pieces for a more natural look.
To add life and interest to the farmhouse look, indoor plants such as succulents can freshen it up. Simple lighting such as slim, black metal floor lamps and lampshades can tie everything together. Finally, to add more texture, a little bit of lace and frills never hurt anybody. Place this as your curtains to softly let the light in your room. Keep it simple and don't overdo the frills as they can look outdated.
Bright Tones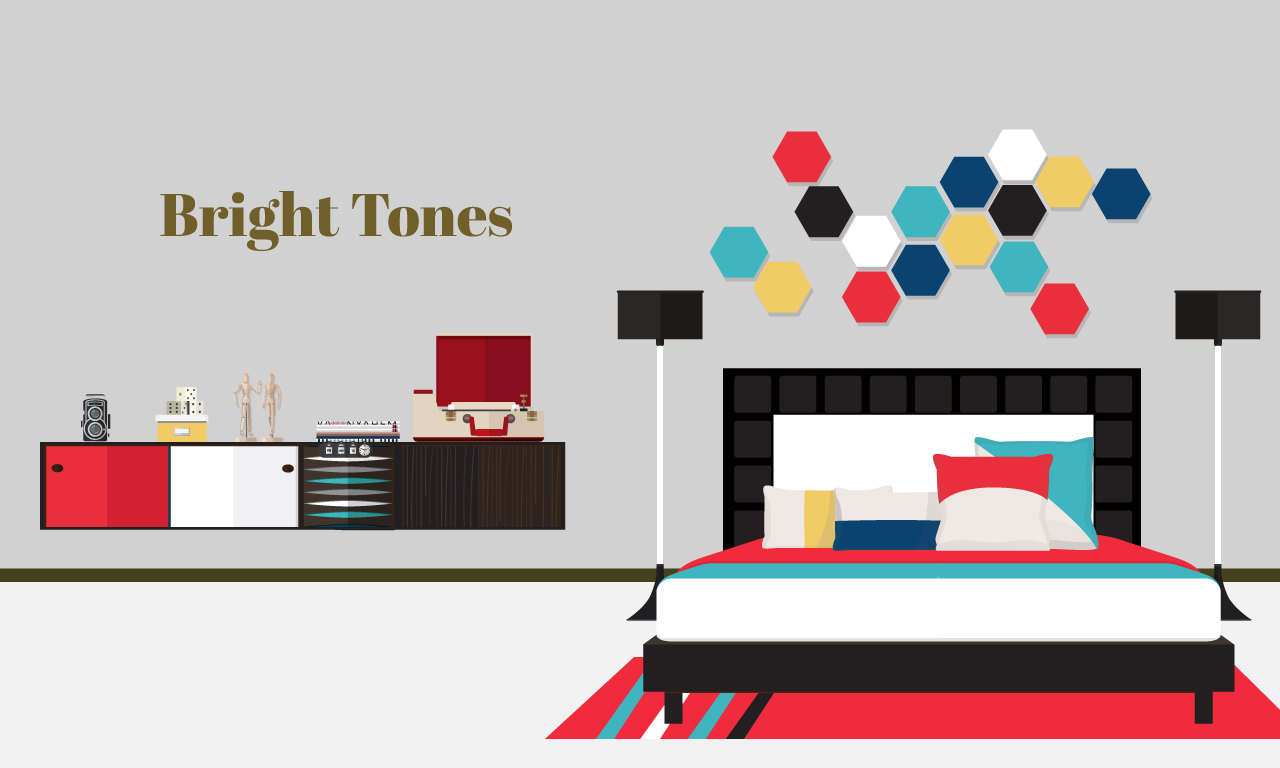 Lots of people think that bright colors are difficult to work with, especially for your bedroom. But it can be very easy if you make a good gradient starting from the lightest color to the deepest. Start with the most color in the same family and work your way towards deeper colors. Use the lighter tones in large furniture pieces and work with the dark tones by using them as accents.
Patterns can also work well with bright tones. You can still keep it subtle with bright patterns when you combine it with minimalistic furniture. Even acrylic furniture can benefit from the added brightness. Try pairing a bedroom bench with bright pillows and cushions for a fun accent in the bedroom.
Alternatively, if you still need that bright energy, add pops of bright colors with different ornaments and cushions. This keeps the entire design subdued but still interesting. For some, it can be risky to go all out with color. Incorporating it in small doses is a better decision for some. Try finding inspiration online for some examples. You will find that some choose to go subtle with a single accent piece while others go bold by incorporating the entire tonal family into the bedroom.
Warm Gray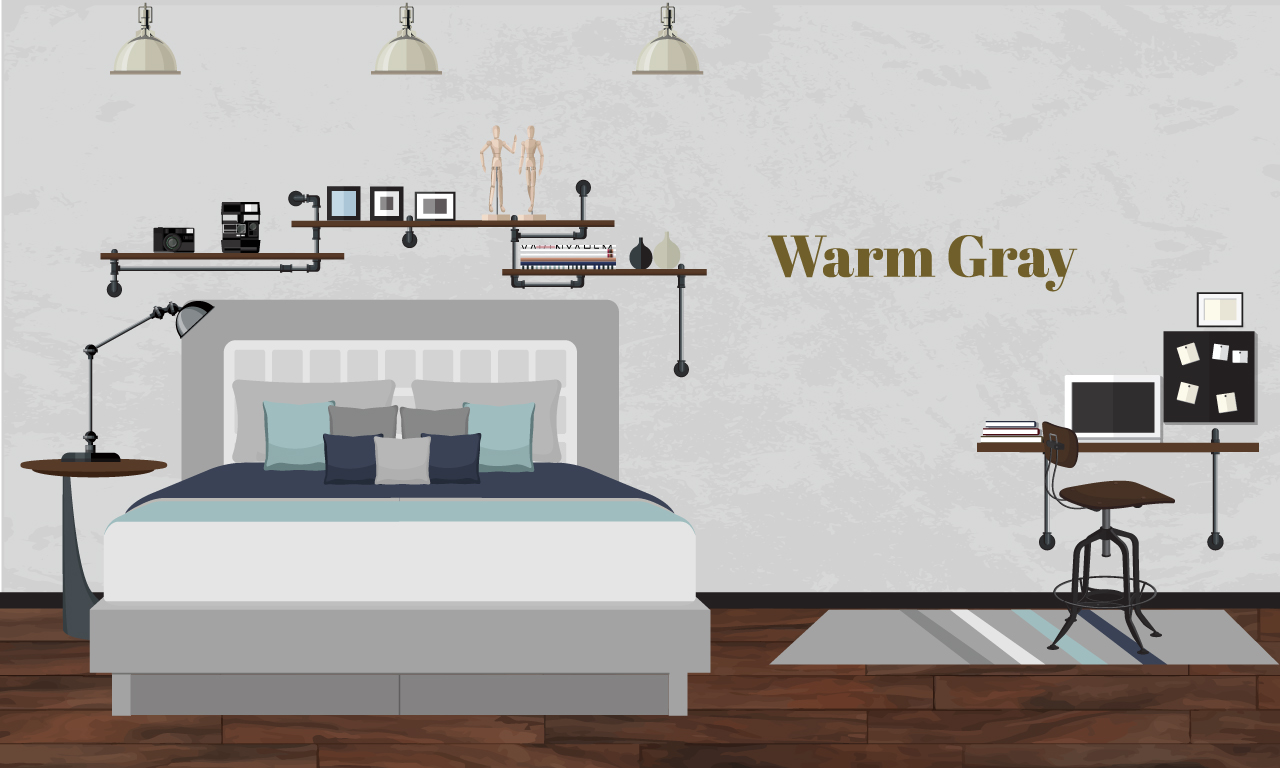 Gray has been a popular choice since 2010, but lately more designers are leaning towards its warmer tones. Cooler grays tend to look lifeless and incomplete, but warm grays add a subtle warmth. Gray is also a very gender-neutral color you can use for your interior design.
Try picking staple wood pieces in warm gray tones. This can be great for your end tables, dressers, and cabinets. For your bedding, different shades of warm gray can add value and shading. Multi-layered bedding can add depth and exude luxury quickly.
You can also try creating contrasts with cool, dark wood furniture with lacquered finishes. The subtle, lacquered gloss texture can instantly make anything look sophisticated and luxurious. Combine this with an upholstered headboard for your bed and transform your bedroom into something fabulous.
You can also further emphasize the warmth with warm light. Make use of industrial style lighting for added style. If you're not keen on industrial design, you can keep it modern or traditional. Use lampshades with wood, glass, or gold bases. Then pair them with the warm wood surfaces you picked out. Now you have a gender-neutral and stylish bedroom design you can change up every once in a while.
Key Takeaway
Bedroom styles for 2020 are embracing new horizons. In light of this change, you should do the same and revamp your bedroom for the new decade. It can be time to replace your bedroom furniture as well. A quick redesign can do this all for you and grant you a new point of view for the new year. Try these styles out for 2020 and enjoy the lavish restyling!