Do you mostly spend your leisure time at home in the living room with your family? Do you have days spent playing board games with friends or catching up on your favorite TV series on your couch? You may want to make your living room look and feel its best.
In the Philippines, home decor can be used in a variety of creative ways to keep the look of your living room updated. It's best to keep it stylish yet functional for the upcoming years. Trends come and go, but some remain popular even after a long period of time. Look no further than this comprehensive guide to 2020 living room trends.
Abstract Art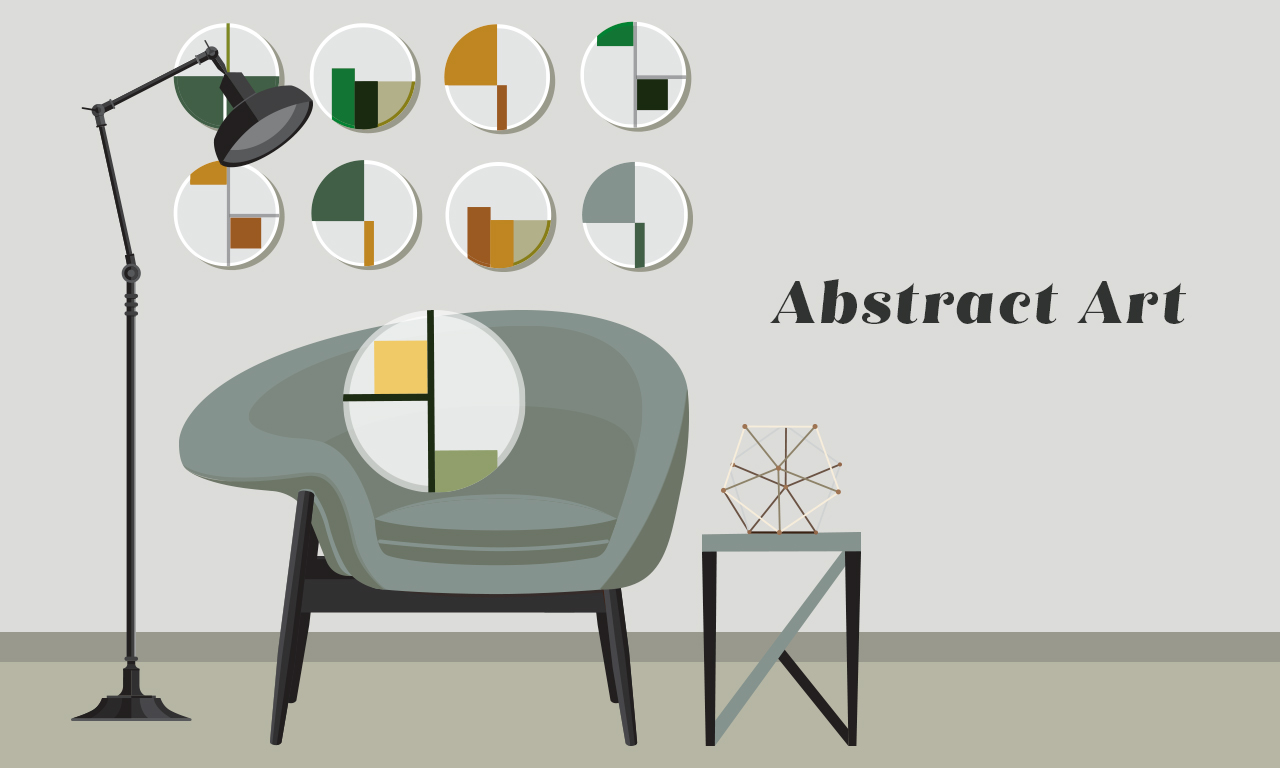 Create art through interior design with this fun 2020 trend. An abstract style is an art form that can cover a lot of media. Interior design trends can easily adapt to this particular design. The key to attaining the abstract style is to be expressive with how you decorate your living room. Be bold with the shapes you choose and express the true essence of this style with playful blocks of color. Remember that with this trend, you must evoke emotion and a specific mood.
To make this abstract trend work for modern homes, choose statement pieces. This could be a colorful accent chair or a geometric patterned pillow. But plan your design sparingly. It can quickly get overwhelming if you decide on covering everything with colors and different shapes. To avoid this, apply the principles of basic interior design to create balance while still emphasizing movement. Make sure each piece is proportionate to ensure a cohesive look to your living room.
DESIGNER'S ADVICE
Rob Ellis is a designer for DFS UK, an upholstery retailer in the United Kingdom. He was interviewed by Jayne Dowle of House Beautiful for an article entitled, "How To Incorporate 2020's Interior Trends Into Your Living Room". In this article, he stated that using two sofas can make a living room feel sociable and friendly. Rich textured fabrics like leather, velvet, and suede add a luxurious element for 2020 designs. He says that when mixing two different styles and sizes, you should have the scale in mind so the overall room looks put together.
Nordic Simplicity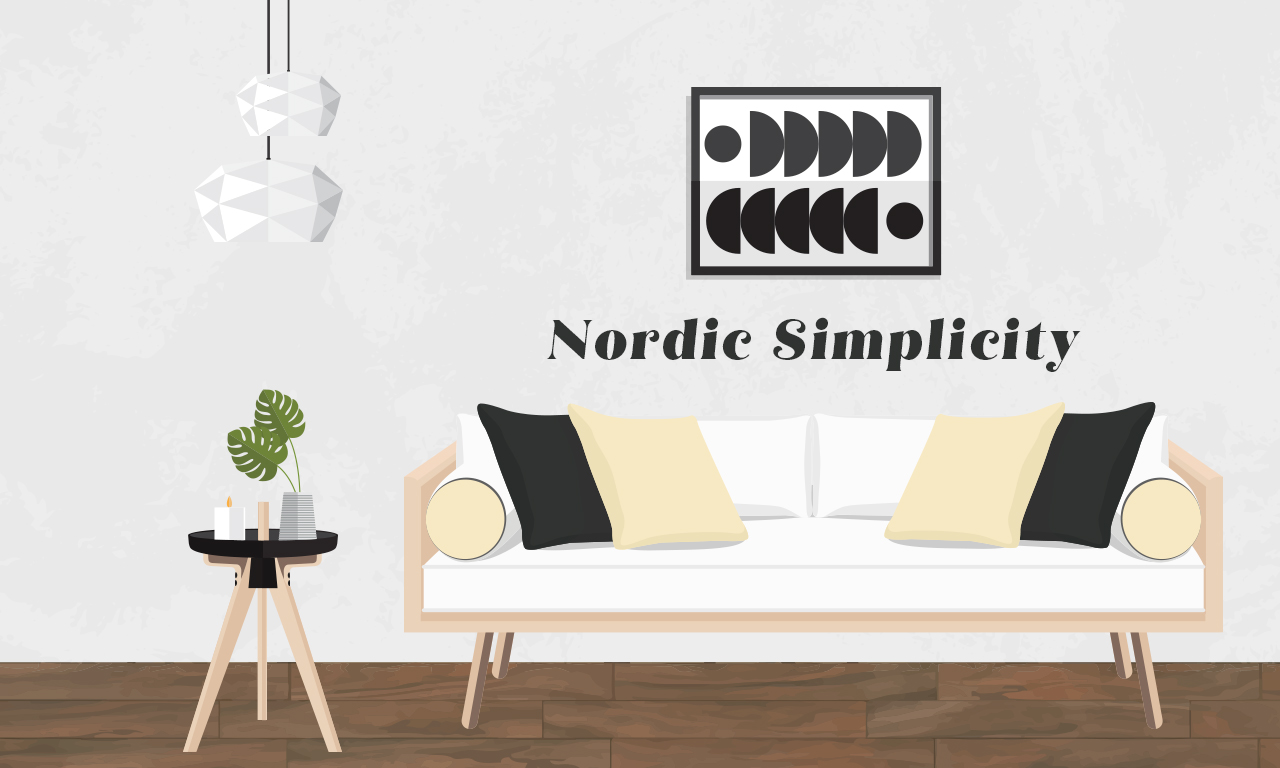 Simple never goes out of style. That's just how it goes. For this style, you can choose to strip back the complicated designs and patterns. Instead, embrace the simplicity of a calm, comfy, and laid-back space. The point of Nordic simplicity is to create a living room that feels safe and inviting. Your goal is to emphasize the fact that your living room is a space to regenerate.
Choose raw, artisan-style materials that give an unrefined, natural look to your living room. For colors, instead of choosing cool greys, take a gander at trendy warm neutrals. You should pick quality pieces for this style instead of quick-fix low-quality furniture. For accents, choose dark bold colors and keep the rest interesting with different textures. Remember, the more you appeal to the tactile sense, the better you can execute this simplistic yet effective trend.
DESIGNER'S ADVICE
Architectural Digest writer Elizabeth Stamp interviewed J. Randall Powers of J. Randall Powers Interior Decoration for her article "14 Amazing Living Room Makeovers". Regarding the design of his own living room, Powers says that living rooms can look much larger if you remove certain elements. He removed bookcases and lined niches with mirrored glass to achieve this effect. Nordic simplicity can be created by using these techniques. The result is a simplistic, sophisticated, and effective look.
The Best of Southwest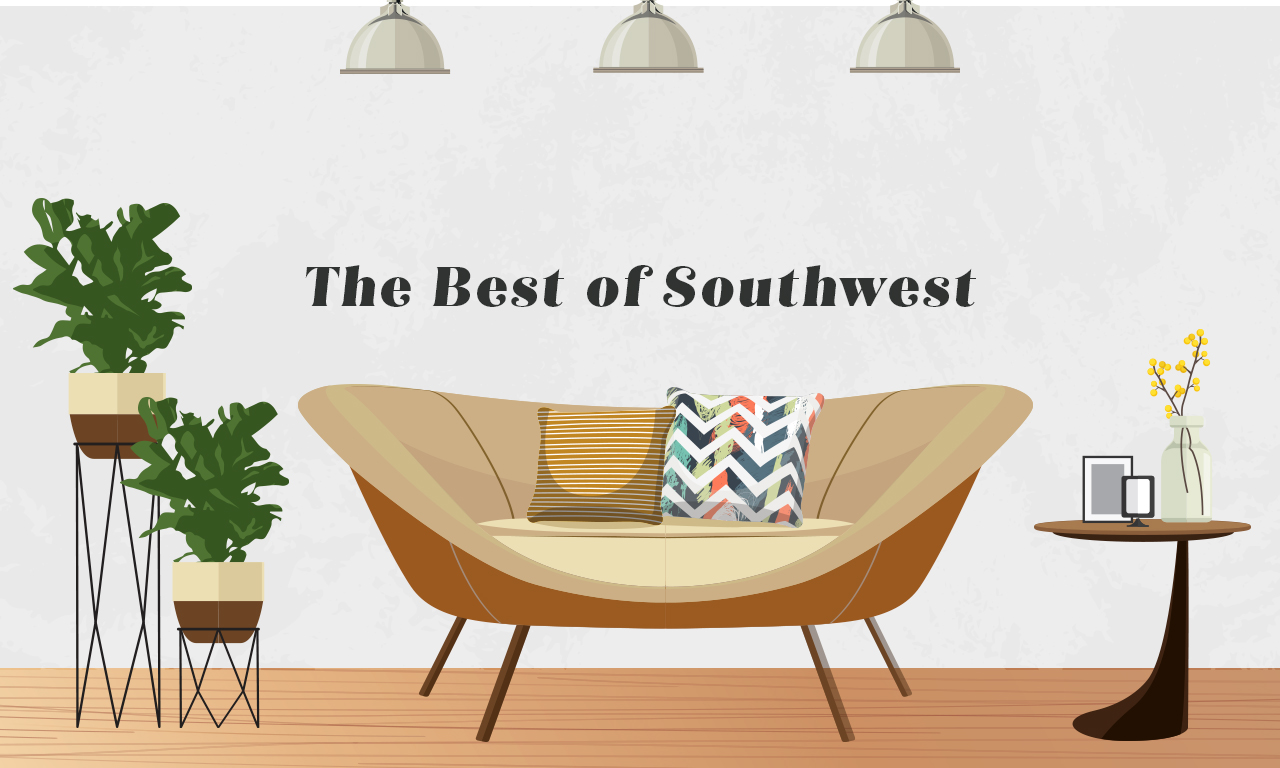 Southwest interior design can also be done in your home. This trendy style is inviting and warm while being very pleasing to the eye. The main focus of this type is the use of wood and metal along with other decorative accents. Did you know that Native American and Spanish culture believe in the power of color? It is said that specific colors can protect the home from evil spirits. The usage of bright and warm colors with this design trend pays homage to Mother Earth.
Use this as inspiration. Turquoise and blue-greens can simulate the sky. Orange and yellow symbolize the earth and sand. Use these colors as accents for your wood and metal furniture to add a pop of interest to each area of your living room. To truly recreate the southwest interior aesthetic, use large murals to create a focal point in large rooms. This draws the viewer's eye to the area using intricate patterns and colors.
Another element of southwestern interior design is the use of natural clay pottery. These can be used for both decoration and functional purposes, which can help you save space. Use this to accent your coffee tables and walls to complete the trend.
DESIGNER'S ADVICE
Arianne Bellizaire is an interior designer from Arianne Bellizaire Interiors, LLC. She was interviewed by writer Kelsey Mulvey of Apartment Therapy for her article "10 Living Room Trends Set to Take the Rest of 2019 by Storm". In the interview, Bellizaire shares that living rooms are returning to their roots. Living rooms are slowly shifting back to everyday living with close, intimate conversations being the center. Skip out on the televisions. Media now is mostly available in various streaming devices, which means that you do not need to have a television in your living room. Instead, focus on comfortable seating and developing an intimate set up to better connect with friends and family.
Bold Glamour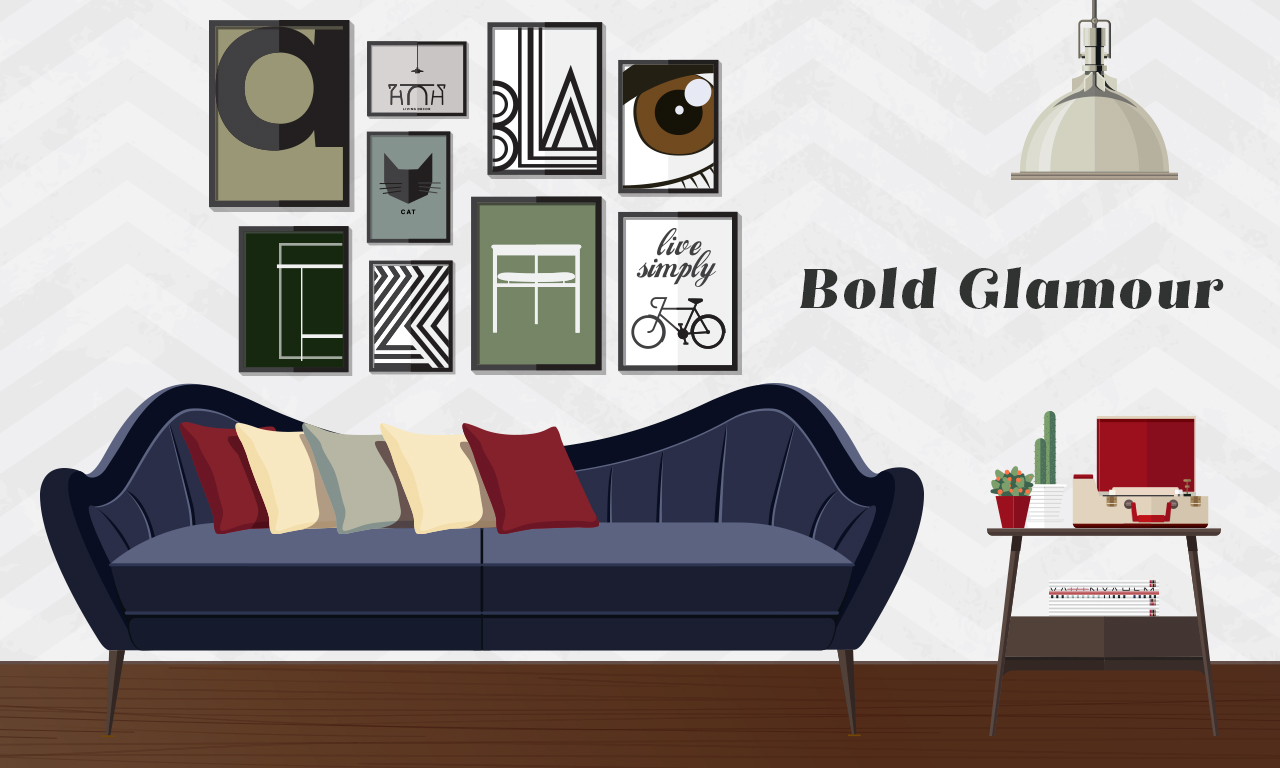 Update the outdated look of the roaring 20s with this style. The reimagined trend is a grown-up, mature take on 70s style glamour and 30s sophistication. Throw in the opulence of this trend by incorporating smooth curves and fluidity as the center of your design. Choose rich jewel tones of red and blue with hints of rose gold and bronze.
This works well with an added glimmer of burnished copper and champagne gold. Be flamboyant with this style and go the extra mile. Choose a strong accent chair that brings the much-needed character to this bold look. Textiles for sofas need to be plush with the use of velvet and suede in various productive, deep tones.
DESIGNER'S ADVICE
Amara is a modern and contemporary furniture company that is up to date with the latest trends. Designers from Amara crafted the article "15 Top Living Room Design Ideas: The Best Styles for Your Next Update". They recommended having two important elements in your living room: metallics and plush textures. In their opinion, plush textures and metallics can make any room look fresh for 2020. Opulent curves paired with jewel tones and gleaming metals can instantly transform your ordinary room to look like it's straight out of a five-star hotel.
Inverted Space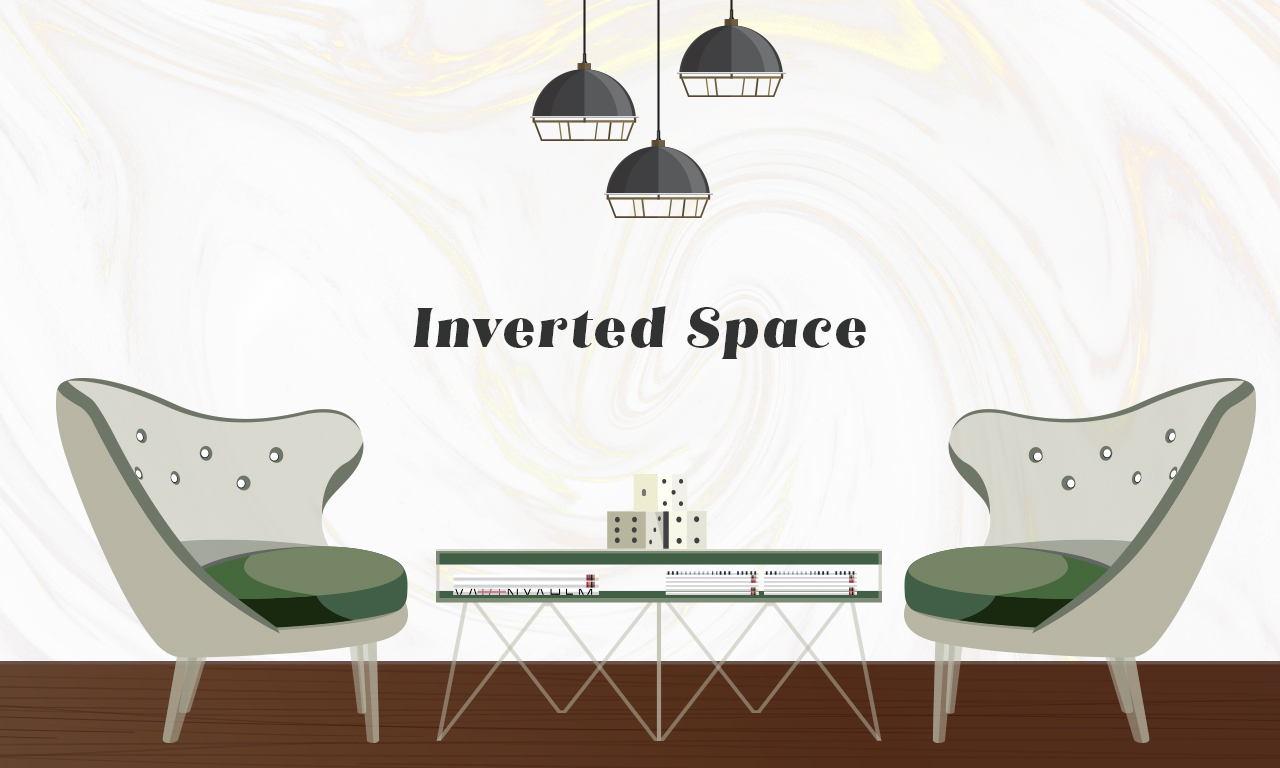 Living room spaces can look much bigger with white tones and see-through furniture pieces. Use acrylic tables and seating to give an illusion of a bigger space. Keep your white furniture near the walls and add color by using potted plants for your space. Having this balance of white and color can bring the look of the room together without being too over the top.
Other combinations of colors you can try are white, red, black, and brown. The darker colors help the white furnishing stand out and keep it grounded from the rest of the room. To bring life into the room, use warm light bulbs for your lamps and ceiling lights.
DESIGNER'S ADVICE
According to Lori Pederson of Lori Pedersen Home Staging + Styling, white furnishing and acrylic furniture can instantly make a room feel bigger through the use of negative space. She was quoted by Lauren Flanagan from The Spruce in an article entitled, "21 Stylish Modern Living Rooms". She says that these two elements combined can make small, modern spaces look larger.
Color Maximalism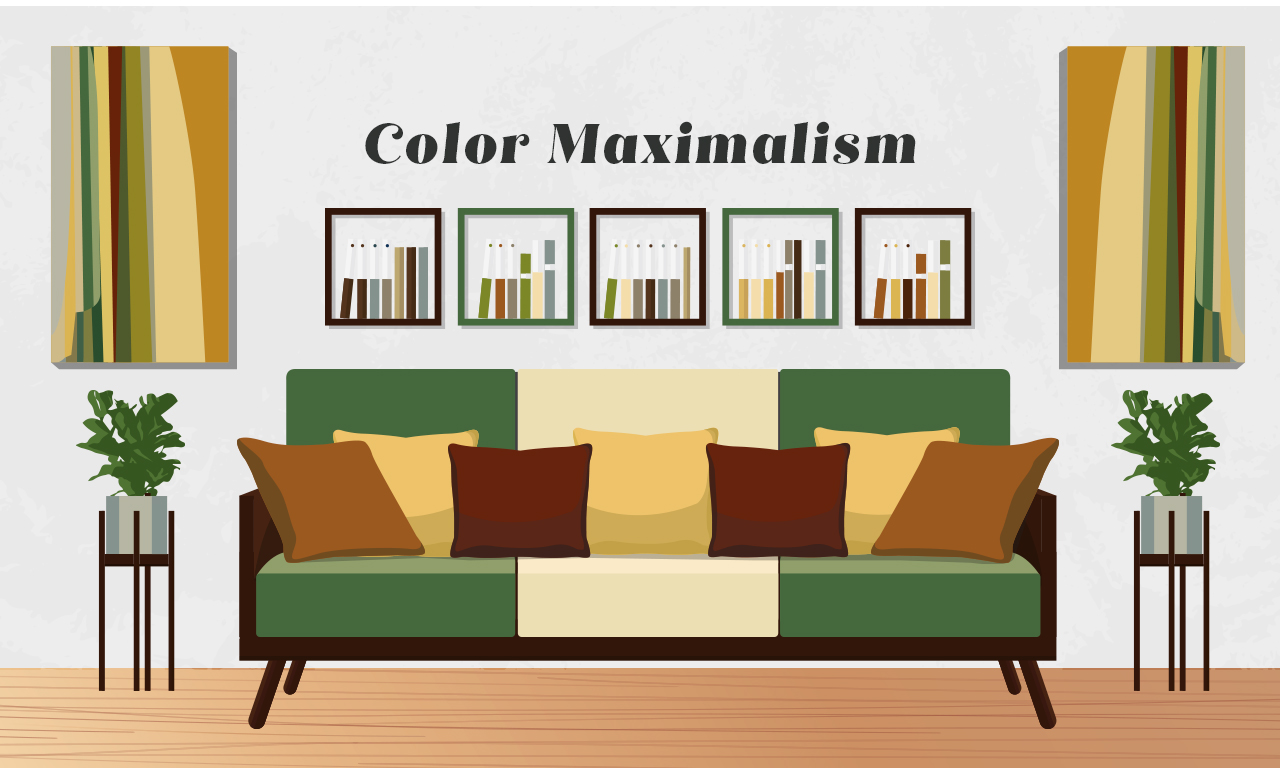 Maximalism or "movement of more" is still ongoing. You should not expect to see this trend go away anytime soon. Not only can you use maximalism for your living room decor, but the colors will breathe life into a once bland living room. Unexpected patterns and color combos are the stars for color maximalism. It may be intimidating at first but the living room can get the instant fun factor it needs without adding too much furniture.
Keep walls plain and incorporate colors through rugs, carpets, and interesting paintings. This way, you can still maximize colors without going over the top. You can even use colorful indoor plants to do this for you. The color combinations are endless, so take time and look for interesting swatches online to try out.
DESIGNER'S ADVICE
Kelsey Mulvey of Apartment Therapy talked to Laurence Carr of Laurence Carr Design for her article, "10 Living Room Trends Set to Take the Rest of 2019 by Storm". Laurence says that kitschy retro styles are in. Everything can be upholstered to perfection. Even walls can be upholstered. Create a custom look by choosing large and small prints for your upholstery and quilts.
Key Takeaway
Every home needs an upgrade every once in a while. When it comes to your living room, you can level up your home decor in the Philippines by checking out future trends. Not only are you creating an updated, luxurious place to rejuvenate, but you are also exercising your creativity and expressing yourself with different styles and colors. Try these 2020 trends for your living room and amp up the look of your space.