Seasons change and your home decor in the Philippines can follow the wonderful trends each season presents. Following the seasons is a great way to exercise your creativity. When we're in a creative slump, sometimes the best place to get inspiration is from your surroundings. Everywhere you look can bring forth ideas you've never tried before. You can't lose with this strategy. The other advantage of taking inspiration from the seasons and your surroundings is that it's genuinely fun. It's one of the core motivations you can use to get creative. Mixing and matching can test your intellect and creativity. If you're ready to get started, here are some ways to mix and match your furniture for different seasons.
Take A Look at Your Seasons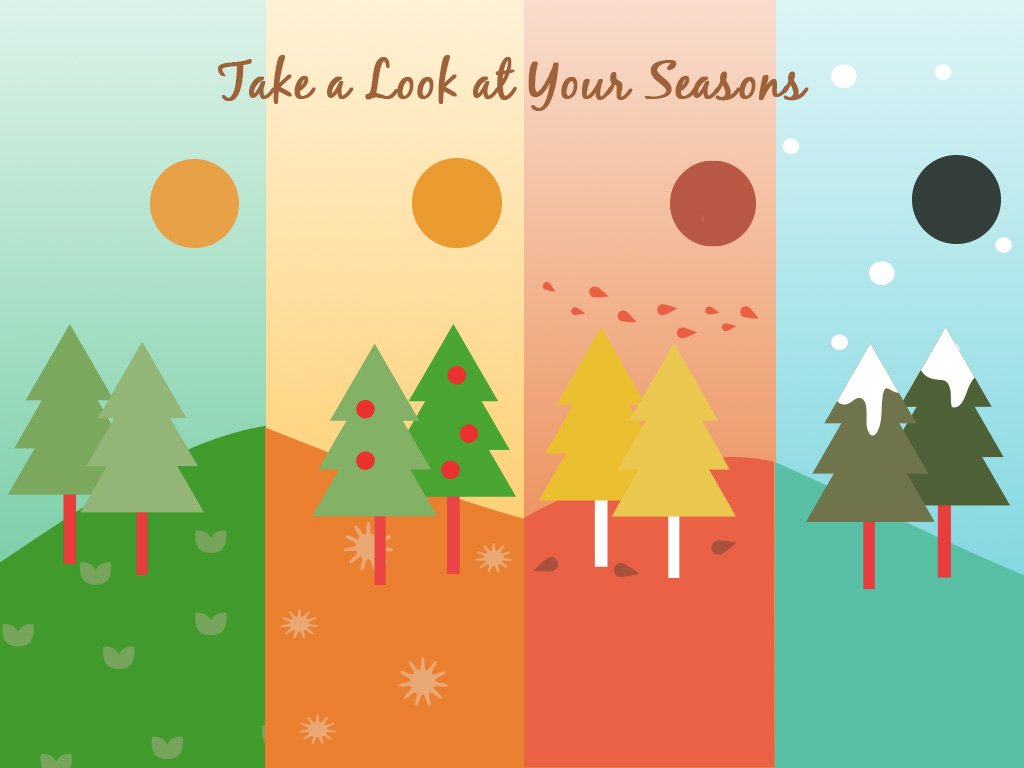 Seasons can mark a change of weather and the passing of the year. Look at your surrounding environment or news online, it will show all of the signs and characteristics for each season. There are a total of four seasons in a year. This includes spring, summer, autumn, and winter. These seasons carry a significant change that influences the world.
During spring, you'll find that seeds begin to grow again. The weather you can expect during spring will be warm, but not too warm that you'll mistake it for summer. You can expect rain as well. Animals who migrated for the winter begin to return due to the warm climate, alongside their newborns. Spring is a beautiful beginning for a new year. It's all about growth and seeing things from a fresh perspective.
Summertime is a favorite for many. Temperatures begin to rise and the sun is higher. Summer is when everyone tends to feel more laid back and inclined to go on vacation. Everyone is looking for a laidback and relaxing energy for this season. It's also the season where fashion trends are lighter and also brighter. There's something about this season that remains forever nostalgic and timeless.
Autumn is a favorite for many people. Everything about this season screams cozy and inviting. Animals are preparing for the cold and migrating to warmer regions. Many cultures celebrate various festivals during this season. Many will begin to incorporate burnt oranges and pumpkin spice tones to follow the season's trends. The weather for this season prepares anyone for the incoming winter season. It's cold but not too cold, just the right weather and just the right season. Autumn brings in the balance. The sun of the summer in the morning and the cool temperature of winter, without being too overbearing.
Winter, like summer, is another favorite. It's the complete polar opposite of summer but somehow similar in a way. Around the world, some might experience snow and some might experience cold rain. Either way, animals begin their quest to provide enough warmth for themselves to adapt to the harsh change. Warmer and thicker materials are preferred for clothing and upholstery. Colors for this season still remain bold but in a sophisticated way. The warm, bold red colors and deep greens seal the holiday season feel.
Basic Mix and Match Tricks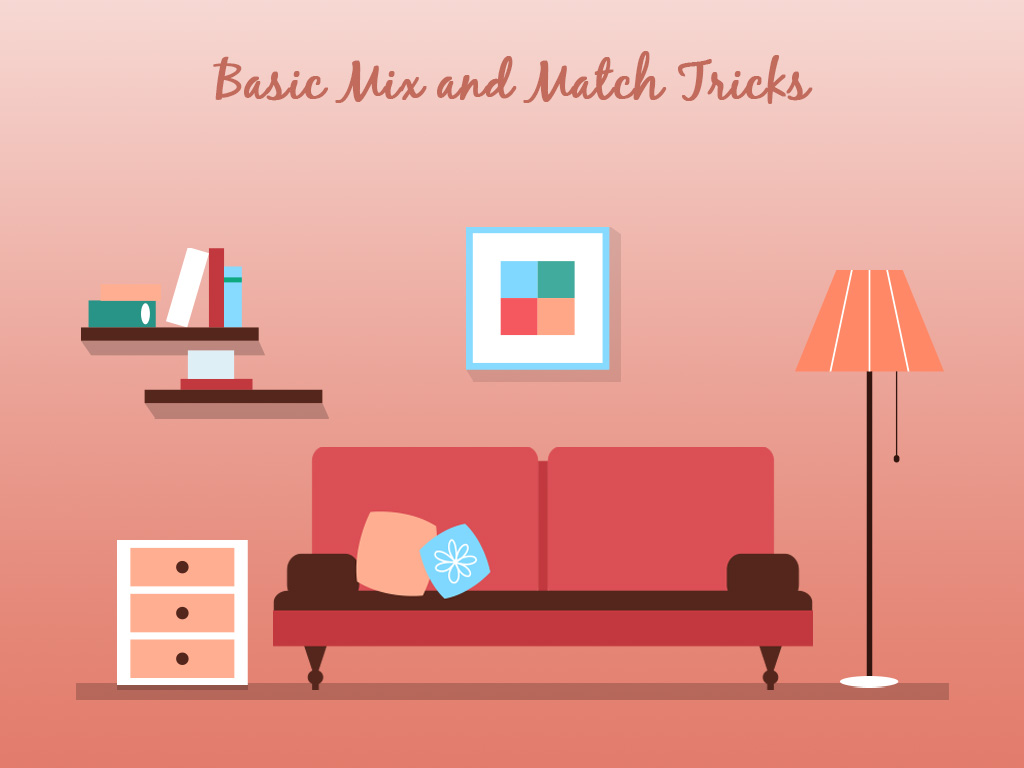 Begin by choosing a theme for your home decor in the Philippines. It doesn't have to be too complicated but at least the theme should be solid enough to follow. Furniture doesn't always have to match when there's a baseline theme to follow. The theme can ground your furniture. This grounding will allow you to choose various pieces without destroying the overall theme. If you're not into themes, you can try finding a good color scheme according to your preference. Color schemes can make the mix and match process much easier as you have a base color to follow for your furniture. Either way, finding grounding or a base can prevent the over design from becoming too messy.
Style is another factor to consider when mixing and matching. This is where your personality begins to shine. What kind of person are you? Are you more inclined towards rustic styles or modern, polished furniture? All these factors can greatly affect the whole vibe of your home decor. It's hard to pinpoint which style you really like, If you find it difficult, you must go on a journey and try out styles that feel closest to yourself. The style you should choose should make you feel good inside. It shouldn't be something you're unsure of. As you know, home decor in the Philippines can quickly become important investments. Get your money's worth by choosing the best and the right style for you. You won't regret it.
Once you have our theme and your style settled down, think about the scale and proportion of the home decor within the Philippines that you'll purchase. Learning about the scale and the proportions of your furniture can bring a visual balance to the overall look of your room. You can pair petite scaled objects with larger-scale furniture to bring a beautiful balance to your room. Focus on bringing the right balance within the room for an aesthetically pleasing look.
Starting with Spring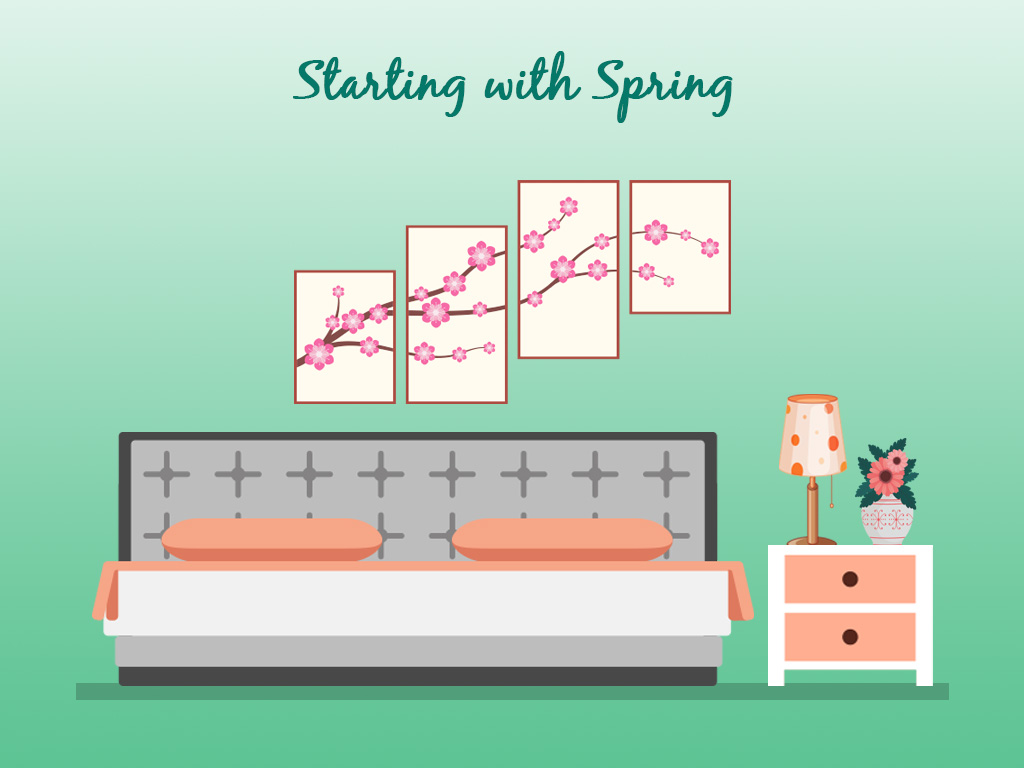 Spring is all about a new cycle. To make your redesign standout, don't be that person who thinks that florals are what makes spring unique. Florals are beautiful but they can be repetitive if used unwisely. Use your florals wisely and don't push the narrative too far. Focus on bringing a fresh look to your redesign. Incorporate linens and pastel colors to bring in light to the room. After a cold winter, it's refreshing to embrace the sun in the most elegant way with flowy materials.
Living rooms can benefit from a mix of subdued mint greens and rustic mahogany browns. This is a classic spring color scheme combination that combines the fresh look of green and the rustic warmth of brown. Throw pillows and curtains in pastels bring a soft and inviting vibe to the overall look of your living room.
If you're really inclined to incorporate florals for spring, take inspiration from the variety of colors you can find. These can range from bold bright colors to relaxing muted tones. Bedrooms can get their much-desired pop of spring colors with accents such as pillows and duvets. You can follow these accent colors for other parts of your home. Don't be limited to your home decor in the Philippines.
Another great and effective way to add the freshness of spring is by using fruits as your decor. This can be placed in the kitchen or dining room as an accent or focal point. These fruits can symbolize growth this coming spring season. Thankfully there are a lot of fresh fruits that offer beautiful punches of color that can bring life to any room.
For furniture pieces such as tables, why not go for clear lucite materials. You can also opt for bright yellow chairs with the clear lucite tables for a balanced combination. This combo adds brightness without being too overpowering. The clear lucite table brings it all together.
Bathrooms can also benefit from spring themes. You can place succulents and colorful towels to brighten up your bathroom. These are simple ways to make your bathroom more appealing for spring. For containing your toiletries, why not use a gilded marble tray to organize them. This tray is not only beautiful but easy to clean. You can place it by your sink and never lose sight of your important toiletries. The marble material also adds a beautiful luxury to your otherwise normal bathroom.
Focus on bringing a light and fresh vibe for spring. You can keep everything cozy and balanced by adding warmth with rustic wood furniture. Don't be afraid to experiment for the spring season and do what feels right for you.
Moving Towards Summer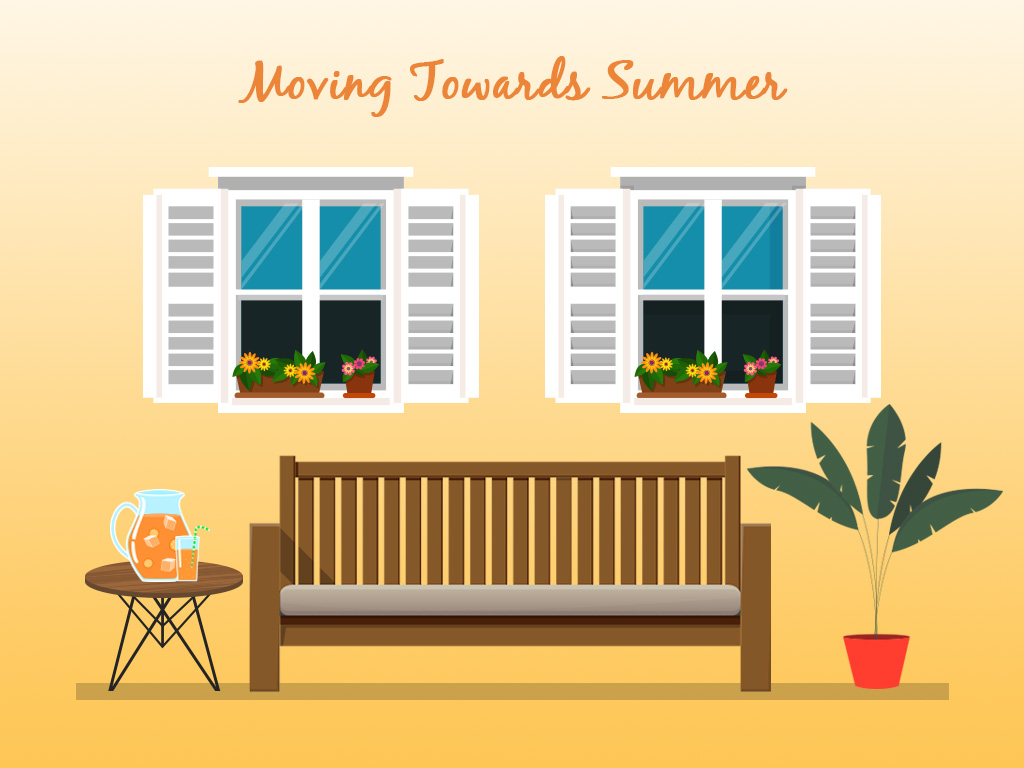 Summertime is exciting. Go big and bold during this season. Beat the heat by avoiding leather upholstery. Get yourself rattan and linen furniture for a tropical vacation vibe. These materials are environmentally sustainable while also being elegant. It's all about properly styling everything. If you're heading towards a rustic vibe, you can add a pop of minimalism here and there. Not too much, just enough to add interest. The same can be done with the opposite end of the spectrum. Minimalism as the main focus with rustic pieces as the accent.
For colors, opt for fun and bright summer tones. Brights can bring everything together for summer. To keep it looking balanced, add your bright tones as beautiful accents. This time around, you can do more compared to spring. Your accent brights can range from curtains and carpets. These pops of color add interest and spunk to any room. Be excited and don't be afraid to dive into color for the summer season.
Mix up your summer vibes with fun rustic textures for wall decor. This can be perfect to pair with the bright colors you incorporated as accents. Or you can pair these textures to the colors of the sunrise and sunset. Summer is all about being inviting and fun. When you have these settled, you have the perfect summer home decor in the Philippines.
Falling for Fall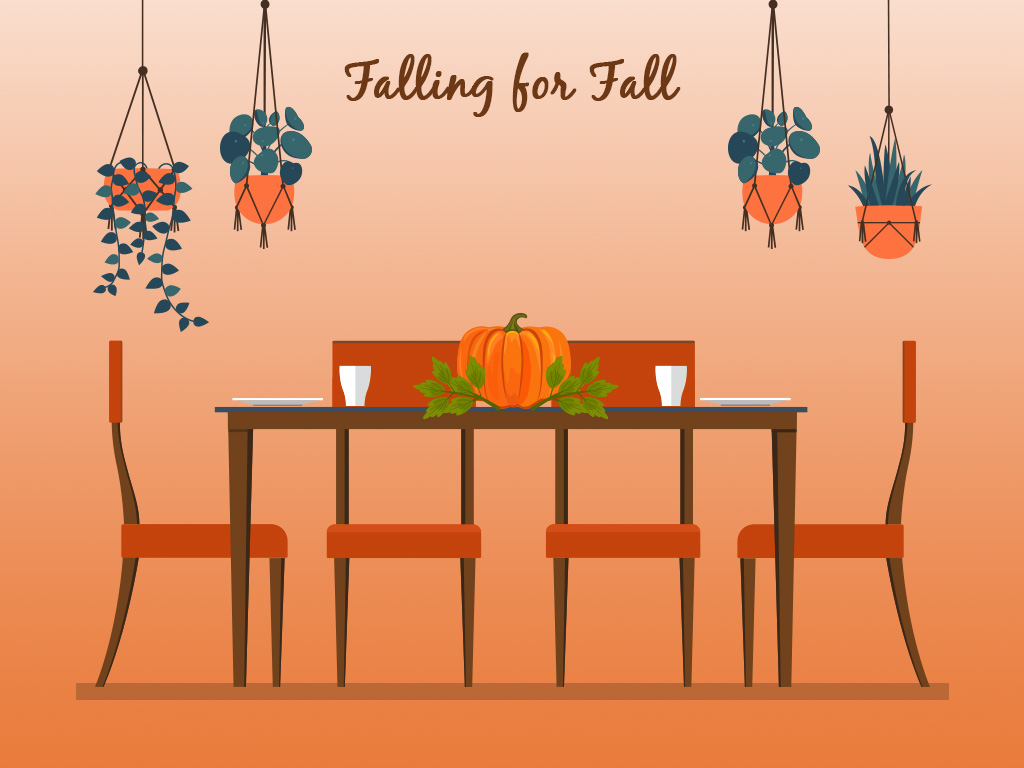 Right after summer is fall. Fall is where you should begin to relax and shift to a more laid back theme. Warm terracotta's and rustic furniture is great for this season. You can pair these with warm and orange tones to complete the fall vibe. Another focal point of fall is being warm, cozy and inviting. You can incorporate heavy textured fabric in warm tones as an accent to your rustic couches for a comfortable and inviting look.
Decor for walls can be pressed leaves and flowers, framed to perfection. Lighting fixtures like furniture can be replaced with a rustic theme and warm light. If you love scented candles, you can choose beautifully decorated candles with pumpkin spice and apple cinnamon inspired scents for the ultimate fall experience.
Go all out with your rustic textures to complete your fall-inspired decor. Remember to use warm colors as much as possible and carefully combine them. Keep in mind that your overall look should still have the right scale and balance so that you can avoid an overdone look for your decor.
Winter Is Coming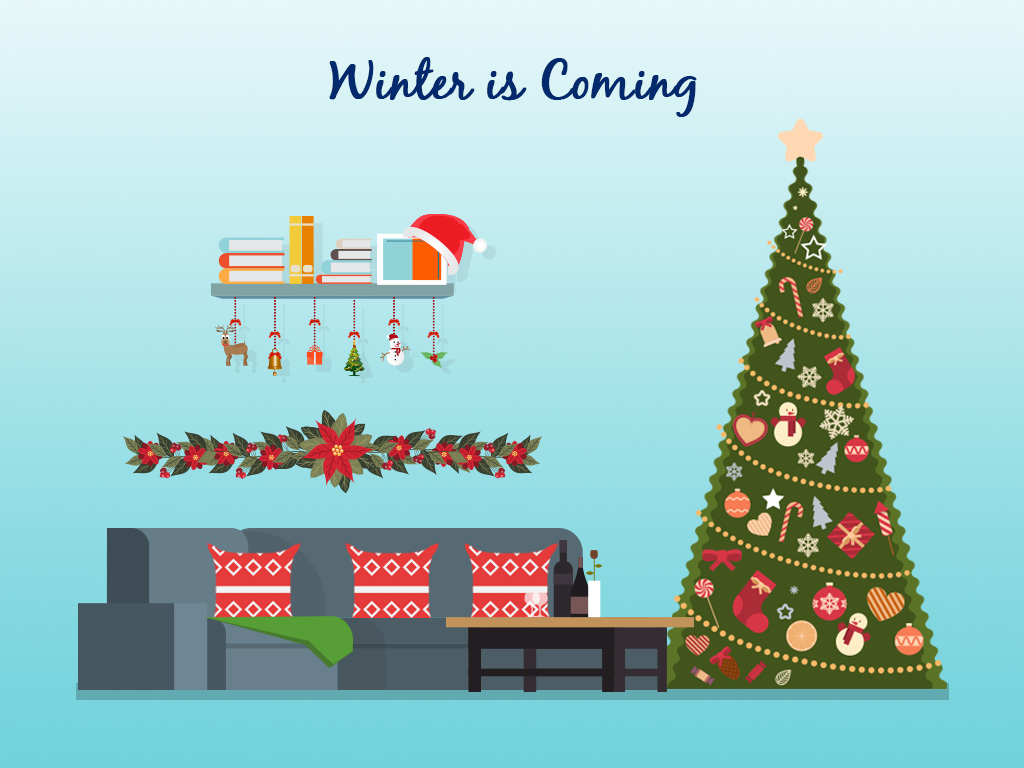 Not everyone is a fan of winter but it's one of the best seasons of the year to spend time with your loved ones. You can incorporate colors of fire and ice for this season. White furniture combined with warm fiery decor can be beautiful and adds an interesting contrast. Don't forget about the cozy furniture you added during your fall redecoration. Avoid looking dead by remembering to add flowers such us poinsettias in specific areas of your house. The additional florals bring instant life to any room with an added bonus for the holidays.
If you have vases and containers, you can wrap them with wool. This is a creative way to add holiday textures to your home decor without going too far. Give it an extra winter feel by adding a nice faux fur rug to keep everything warm and cozy.
After the holidays, it's a good idea to get rid of most of the decor and red tones. You can even keep your Christmas tree bare if you wish to keep some greens inside your home. Do what feels best for you. Follow your style and the furniture style you decide to use. Use this as your base for a great base for your winter decorations.
Key Takeaway
Mixing and matching for your home decor in the Philippines is a fun challenge. There are many places you find inspiration in and the seasons can be one of your focal points. Each season offers something special for any interior design enthusiast. Seasons are just one of the things in life that guarantee change. Use this as an opportunity to mix and match your furniture. You can create new looks for each season, so every year, your house will be updated with a new look all year round. Muebles Italiano can help you achieve new looks for any season. If you choose Muebles, you're choosing high quality. Visit us at any of our branches or give us a call today.